Who is IMPACT?
IMPACT is the leading IT and technology services firm that provides all-inclusive and complete IT, Document Solution, Voice and Web solutions to businesses, non-profits, municipalities, and schools in Maryland, Delaware, and Virginia. IMPACT provides its unique approach in delivering its solutions from years of discipline and experience in the IT industry.
At IMPACT Technology Group, our team provides everything technology for our clients. We prevent downtime and security issues with great products and best practices. We bring ALL your technology to date with migrations and projects including Cloud services. We provide an ALL encompassing backup service that is unmatched by our competition. We solve your technology problems with a highly responsive and super friendly help desk that answers the phone. And the best part is we do ALL of this and more for a budget friendly flat monthly fee.
We Provide Turn-Key Standardization of your Network, Processes and Security
Our Entire System is Process Driven and Disciplined for Maximum Results
We Strive to Make IT and Technology Fun
Your Network "Up Time" is our #1 Priority
Why We Do What We Do
IMPACT and all its team members love technology and what it can do to improve lives, improve processes, and improve your business. We infuse technology innovation in our solutions, support, and people to allow your organization to improve and facilitate enhanced processes, better outcomes and make technology work for you.
   "We Absolutely Love This Stuff ... IT Is Our Passion"
How We Deliver Such Consistent and Great Results
We like to call it the "IMPACT Way". By taking years of experience, industry best practices, skills from our may talented engineers and network administrators, and "what just works", we are able to deliver organizations a consistent, reliable and secure technology platform to allow them to reach its true potential. Our turn-key system allows you to adopt a set of standards and processes that equates to technology that works all the time, minimal interruption, a group of advisers to guide you through the ever-changing and dynamic technology landscape, and provide FAST support from an entire team when you need it most.
Our Story
IMPACT Technology Group Inc. was founded by its owner, and current President, Justin Kelley in 2006 originally as IMPACT Networks. Justin worked with other area companies that did not truly understand the importance of IT for business success or implement the solutions that obtained the degree of satisfaction with customers he demanded of himself. Justin wanted his customers to realize the value of their IT, leverage it, and grow their businesses. After talking with his friends at Impact Audio Video, Justin realized the importance and demand for a complete technology solution provider in the area.
Since then, we have remained dedicated to providing state-of-the-art IT support, service and products that allow our clients to get ahead of the competition and achieve greater success.
---
Why IMPACT
Helping you achieve greater success with strategic IT
If you're too busy worrying about technology to focus on running your business, you should know there's a better way.
Here at IMPACT we understand that you have more than one IT services and solutions provider to choose from and we know that you need to be fully armed with relevant information and answers before you choose the technology partner that is the right fit for your business. So why should you choose to work with us?
We believe we're the best possible choice in the Salisbury area because we actually deliver on our promises and provide you with outstanding IT support, services and solutions that will truly make a difference to your business. What's more, we do this on time and within budget - you won't find us hitting you with unexpected costs or suggesting products or services that you don't really need. Our goal is simple: to help you achieve more by increasing your productivity through better use of your technology.
"We have been through a half of dozen companies who hung a shingle as an "IT guy" but could do little more than a disc clean-up on their schedule. IMPACT Technology Group is the professional IT team that keeps our business running efficiently and is always a mouse click away. If you think a professional is expensive, you should see what an amateur costs you."
William F., Eastville
By outsourcing the management, maintenance and support of your business IT to IMPACT, you can finally take the stress out of using the technology your business counts on everyday. With a customized IT solution from our team of experts, you'll finally begin to think of your technology as a strategic investment, rather than a constant drain on your time and resources.
At IMPACT we provide delightful and almost immediate responses that actually solve IT problems. We implement the IT solutions that your business needs so if you're too busy worrying about technology to focus on running your business it's time to talk to us.
The many features and benefits of partnering with IMPACT for your IT needs include:
Comprehensive technical support - we're here for you whenever you need us
Product discounts - our partnerships with leaders in IT mean you save more money
Increased efficiency - with on-site and remote support at your fingertips
Proactive technology support - our experts will solve IT problems before they affect your business
"Over time, I have come to have complete trust in IMPACT's ability to keep my company up and running. They are there to answer my questions and to respond to my issues in a most timely fashion. They have continued to fully support products they sold to us and I appreciate the straight answers on recommendations for systems improvements."
Don T., Salisbury, MD
If we had to sum it up, we'd say that at IMPACT your success is our success. We understand what makes businesses tick and we know how much time, effort and money you've put into building up your business to make it the success it is today. After all - we're in exactly the same position! And that's why we strive to maintain loyal, long-term relationships with the businesses that rely on us for greater efficiency, productivity and profitability.
Why choose to work with IMPACT? Because we have the expertise, the knowledge and the solutions that will ensure your business is the very best it can be.
We build IT solutions based around your unique business and budget.
Our tailor-made support plans mean you'll never pay for technology you don't want or need.
Our team of technical experts and consultants work as an extension of your business, ensuring you and your staff are on the same page when it comes to IT.
It's time to take your business to the next level with IT service and support from IMPACT.
---
Our Team
A Comprehensive Technology Team Approach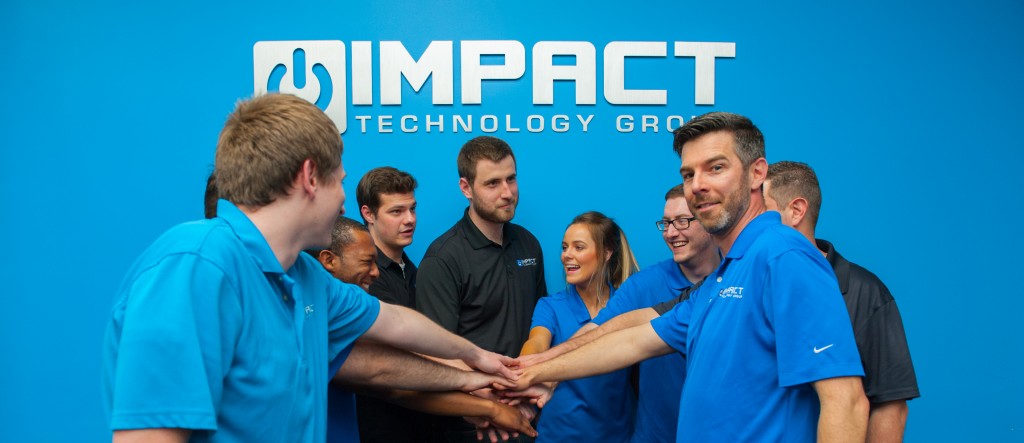 We all know how important customer service is. It is everything and it is hard to come by today. At IMPACT, you are what matters most to us. Our team is staffed with incredibly friendly, outgoing and helpful technical-minded people at every position. We all get IT and how important it is to your business.
Today's technology can no longer depend on a single person to handle the complexities of today's technology in today's business environment. You need a team and IMPACT has an entire team of specialists in many areas to provide that comprehensive technology system you get from the IMPACT Way.
The Technician Difference
At IMPACT, our staff and our technicians make the difference and ultimately provide the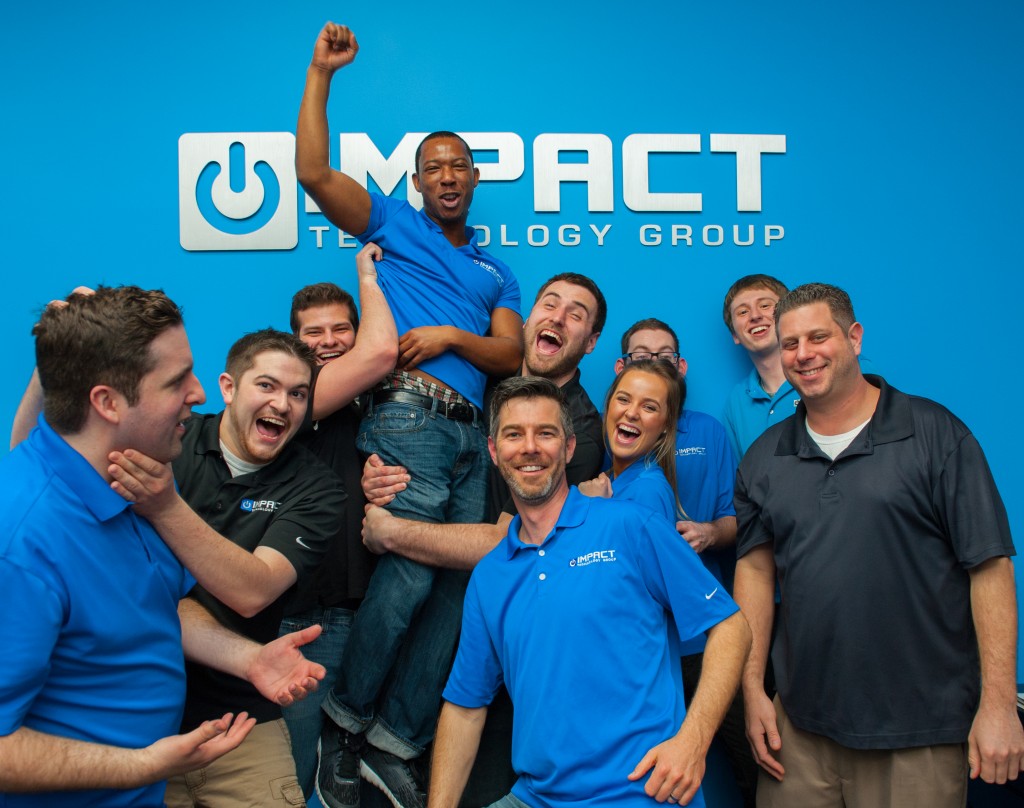 experience you get from IMPACT. Here is how we are different and what you can expect:
Not Geeks! Just a group of Highly Trained Technology Professionals
Fun and Friendly with Unique Personalities - This Stuff Can Be Boring So We Make IT Fun!
Professionals - This Is Our Day Job and Not Something We Do on the Side
Certified - Our Technicians Are Certified and Continually Keep Their Certifications Updated
Continuous Technician and Staff Training on Our Clients' Networks, Systems and Most Importantly... People!
Well Dressed & Well Groomed... What You Expect from a Professional Services Team
"We love Impact! The Staff is AWESOME to work with. Very professional and polite. Justin has built an experienced and very knowledgeable team. "
Peggy B.
Here's why so many businesses depend on IMPACT for IT service and support:
Our Registered Microsoft Partner status - reserved for companies that demonstrate excellence in implementing Microsoft technologies
An Entire Team of Experts at your Service - dependable consultants and engineers that work as your partners in IT and success
Round-the-clock Technical Support - IT help when you need it most
Technology services from IMPACT are designed, created and implemented with your unique business needs in mind, so you know you'll see a return on your IT investments today and in the future.
Discover why so many businesses are turning to IMPACT for the best and brightest in IT support.
---
11 Things We Do Better
Our goal is that our clients completely love our services and support staff. To do that, we want you to know what makes us different and also, what we think makes us a better choice for your project or IT services and support.
1. 100% Unconditional Satisfaction – We Guarantee "IT". Our technology support and
services will give you the satisfaction you deserve. We will bend over backwards to ensure you are happy with our IT management & network support services. If for any reason our services or a project do not meet your expectations, IMPACT provides our money-back guarantee for available services.
2. 1 Hour Response Time – Nobody likes to wait to get their technical issues resolved or request fulfilled. We know it is frustrating when technology doesn't work and you are stuck, waiting on someone to call you, maybe even days later. Our technicians typically start working on your issue within 1 hour or less, unless you don't need us to.
3. Headache-Free Technology with Maximum Uptime – Our goal as an IT support firm is to deliver the services and support your business needs. Your business wants headache-free and hassle-free technology working for your business, not against it. Our proactive delivery model and network design coupled with our recommendations will provide almost ZERO downtime. In today's business arena, downtime is money and businesses cannot afford to be down when we depend so much on technology.
4. Budgeted, Flat-Rate IT Expenses – In a world of uncertainty, you can feel comfort in the fact that you know the IT expenses for your company are within budget and fixed. IMPACT only delivers affordable fixed-price, reliable, all-inclusive support plans and flat-rate projects. With this model, business goals are aligned and we are dedicated to meeting your business needs in proactive manner. While some of our competitors follow the "break-fix" model, meaning the more problems you have – the more you pay, we have an incentive to maintaining maximum uptime and resolving issues as expeditiously as possible.
5. Fixed Rate Projects with No Overages – Completed on Schedule AND Budget – Guaranteed. By hiring IMPACT for your next project, you will have a professional team implementing the solution. Unlike our competitors who discount the true number of hours for a project just to get the job, IMPACT thoroughly designs your project with the correct number of hours and expenses so that there are ZERO overages, surprise bills and excuses. IMPACT projects also use commercial-grade equipment, are designed with all facets and support included, and already include IMPACT and industry best practices so that you have minimal issues for years to come.
6. Never Lose Data – Guaranteed – With IMPACT's solutions and recommendations,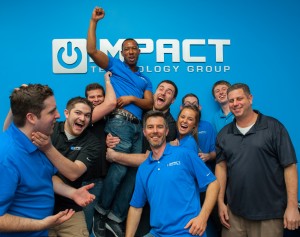 IMPACT guarantees your team will never lose data and to get you up and running in the event of any disaster, big or small, within hours and not days or weeks.
7. Dedicated Technology Consultant Partners – We care about your business and we do so by meeting with your key staff on a periodic basis to help guide you through best practices, security measures, policies, structures, compliance, budgeting, and making sure that IMPACT and your technology are delivering to improve the bottom line in your business. Not only that, our consultants provide value on many other fronts related to
technology and business strategy from years of experience and trends.
8. Fun, Interactive Company – While the technologies we support and monitor within
your business are complicated and sometimes boring to you, it is our job, it is who we are and it is also what we are passionate about. We strive to take the stress and frustration out of sticky and frustrating technology problems by doing it right but also have a fantastic and entertaining team of geek-speak free heroes and technology gurus for your business.
9. Always There for You – And we mean it! We will do everything in our power, 24x7x365, to ensure your network operations and IT are running smoothly without interruptions or downtime. With 24x7x365 monitoring, someone is always watching, and just in case, you need support outside normal hours, someone is always available if something were to go wrong. You can now have peace of mind and rest easy with IMPACT on your team.
10. Professional, IT Heroes – IMPACT's staff is not just technicians but business-results oriented consultants providing IT services and support that will impact your business. We will never speak in terms you do not understand or in technical "mumbo-jumbo" unless you want to know all of the technical details. We do what we say we are going to do, we do it on time, and we strive to do it right the first time. Technicians are never learning on your dime on your network as they undergo a 6 month training curriculum for our customers and the technology services we provide. With weekly and other ongoing training, you can be assured that multiple technicians at IMPACT know your network and the services we provide.
11. Periodic Onsite Visits – Don't worry! We are not a faceless name or voice. We are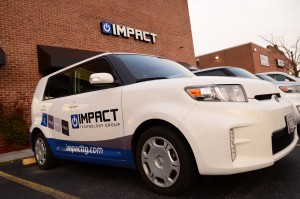 local and you will get to meet with and interact with our staff. The best way we have found is to be there, with you. We aren't going to interrupt your day, but instead, do periodic proactive onsite maintenance, checks, and implement practices. While there, we will also be there to take care of any requests you need or solve any onsite issues. We are yours for the day!