Phone & Voice Systems with VoIP
Are you looking for a new phone system? Is your old system outdated and lacking on today's modern business features? Trying to cut costs on your existing phone bill? A hosted (cloud-based) Voice-over-IP (VoIP) phone system from IMPACT may be the solution you are looking for and at the right price.
IMPACT provides state-of-the-art Hosted and On-Premise VoIP solutions. Cloud-Based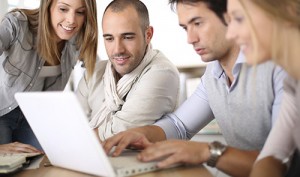 Hosted VoIP offers the flexibility, affordability and reliability you need for your business communications. And unlike traditional PBX systems, it's delivered without the expensive setup and bulky hardware. Because Hosted VoIP is cloud-based, installation is quick and you are able to seamlessly integrate multiple locations.
Transform Your Business with Cloud-Based Hosted VoIP. Evolve your business communications with over 150 enterprise-class features. Here's why!
---
Why Choose Hosted VoIP?
Save Time and Money – Instead of building-out or updating phone systems, hosted VoIP eliminates the need to buy equipment, software and licensing, reducing upfront costs up to 60% and up to 60% off your phone bill each month. Maintenance and updates are included and happen automatically.
Mobility - Uniting multiple locations has never been easier. You can now connect all of your remote offices and employees with one hosted system with all the same features. Plus, the system follows you, whether at the office, on the road, or even working from home.
Scale Freely – As your business grows, you will never have to worry about replacing your phone system again. By choosing a cloud-based solution, you'll have the flexibility to scale service up and down on demand. With plug-and-play capability, cloud-based hosted VoIP is a quick, affordable solution to organizational growth. You can seamlessly add phones across multiple locations on the same system to meet rapid business requirements.
Connect Employees – No matter where your employees are located, IMPACT's Hosted PBX services unite them with a single, unified phone system.
Consolidated Presence - Hosted VoIP creates a single, unique customer facing presence and experience for your customers.
Rely on 24/7 Support – Support you can count on. Our support team is available 24/7/365. Maintenance and updates are included too!
---
How VoIP Works
VoIP solutions connect to your existing internet connection providing you with high-quality phone service. You can dump your existing phone service and phone bill! Because the service is hosted, the phone system itself is housed in our secure data centers. Whether you are a small business with four employees or a large enterprise with multiple locations, you will always have the most up-to-date features at your fingertips.
---
Good VoIP vs. Bad VoIP
Voice over IP (VoIP) is a great phone solution for businesses. Unfortunately, there are many cases of bad VoIP out there, so it is important to understand the difference. At IMPACT, we have partnered with an industry leader that invests heavily in their server infrastructure to ensure that that our customers receive the absolute highest quality. Our VoIP solution is feature rich with over 150+ features. Most importantly, we pride ourselves in our dedicated support which is included.
---
Features
Cloud Based so it is easy to manage
No Expensive Phone System or PBX Hardware to Purchase
Phone Handsets Included
24x7x365 Support, Maintenance, and Updates Included
Handset or no handset - it's up to you. You can use your cell phone, a headset, softphone, or a traditional handset.
All-Inclusive Rates with Unlimited Calling
A truly mobile workforce (your extension follows you around and can ring your office and mobile phones)
Blackberry, iPhone, and Android are compatible with apps
More...
See how much money you can save each month and the benefits VoIP phone system can be. Or, request a free VoIP consultation to see if VoIP is right for you.
If Hosted VoIP will not work for you, we can also provide on-premise solutions as well. Please contact us for details.
We provide VoIP, Phone Systems and a range of IT Support in Salisbury, Delmarva, Eastern Shore, Fruitland, Delmar, Laurel, Seaford, Bridgeville, Georgetown, Milton, Milford, Rehoboth Beach, Bethany Beach, Fenwick Island, Ocean City, Berlin, Snow Hill, Princess Anne, Oak Hall, Olney, Crisfield, Exmore, Eastville, Cape Charles, Cambridge, Denton, Easton, Oxford, St Michaels, Annapolis, Crofton, Odenton, Bowie, Mayo, Edgewater and surrounding cities.