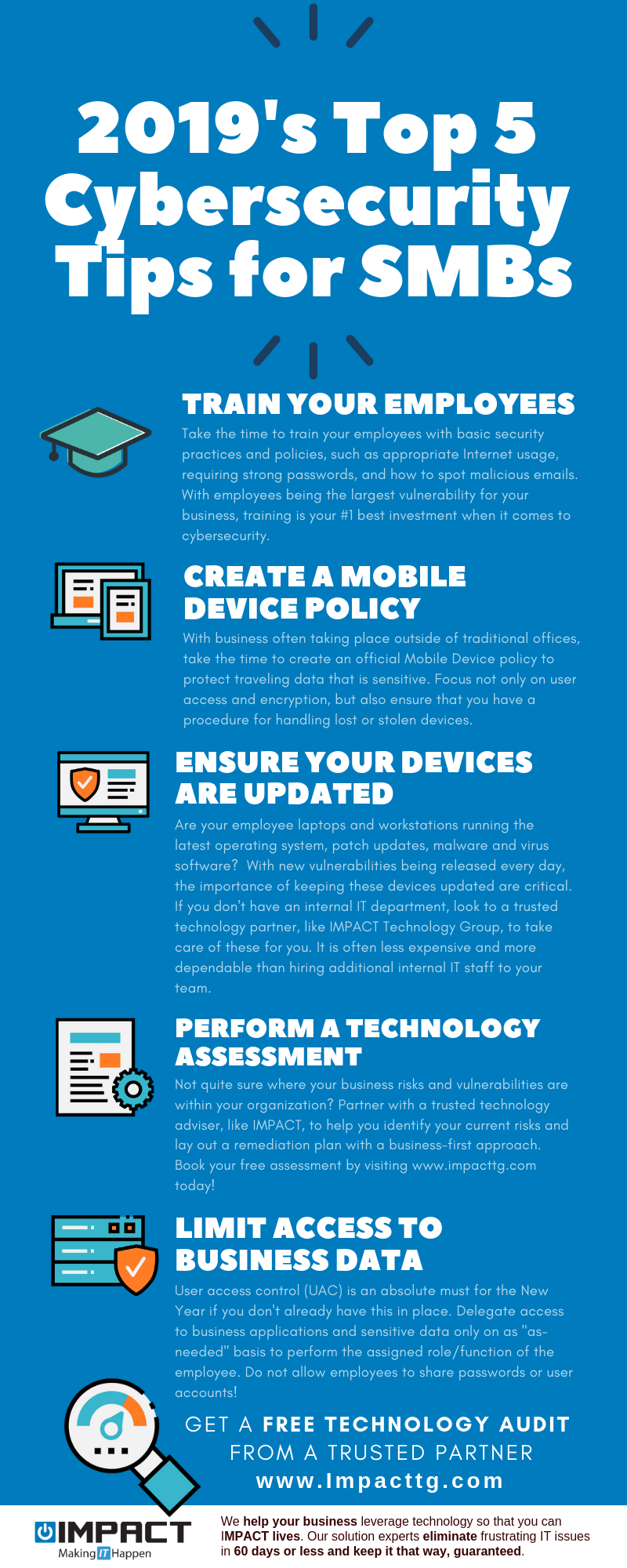 2019's Top 5 Cybersecurity Tips for SMBs
According to recent study by AT&T, 80% of businesses acknowledge they experienced some sort of a cyber attack. Unfortunately, of those attacks, most small to medium-sized businesses (SMBs) are often less prepared to deal with the security threats than their larger counterparts.
Today's data threats don't discriminate—in fact, it's often assumed that only large, enterprise-level companies need to implement proactive cybersecurity measures to protect against cyber criminals and malicious hackers. However, as the data for 2018 continues to be compiled for analysis by leading experts, one thing continues to be evident—all business need to begin protecting their sensitive company and customer data, regardless of the perceived risk.
To help jump-start this for your business, our security experts have compiled the top 5 cybersecurity tips for small to medium-sized businesses to begin implementing when welcoming 2019. Here's the rundown:
Train Your Employees
Take the time to train your employees with basic security practices and policies, such as appropriate Internet usage, requiring strong passwords, and how to spot malicious emails. With employees being the largest vulnerability for your business, training is your #1 best investment when it comes to cybersecurity.
Create a Mobile Device Policy
With business often taking place outside of traditional offices, take the time to create an official Mobile Device policy to protect traveling data that is sensitive. Focus not only on user access and encryption, but also ensure that you have a procedure for handling lost or stolen devices.
Ensure Your Devices are Updated
Are your employee laptops and workstations running the latest operating system, patch updates, malware and virus software? With new vulnerabilities being released every day, the importance of keeping these devices updated are critical. If you don't have an internal IT department, look to a trusted technology partner, like IMPACT Technology Group, to take care of these for you. It is often less expensive and more dependable than hiring additional internal IT staff to your team.
Perform a Technology Assessment
Not quite sure where your business risks and vulnerabilities are within your organization? Partner with a trusted technology adviser, like IMPACT, to help you identify your current risks and lay out a remediation plan with a business-first approach. Book your free assessment today: http://www.impacttg.com/resources/networkreview/ 
Limit Access to Business Data
User access control (UAC) is an absolute must for the New Year if you don't already have this in place. Delegate access to business applications and sensitive data only on as "as-needed" basis to perform the assigned role/function of the employee. Do not allow employees to share passwords or user accounts!